Russian plane crash in Sinai
— ▲Samy قائد☥ (@samy_qaid) November 10, 2015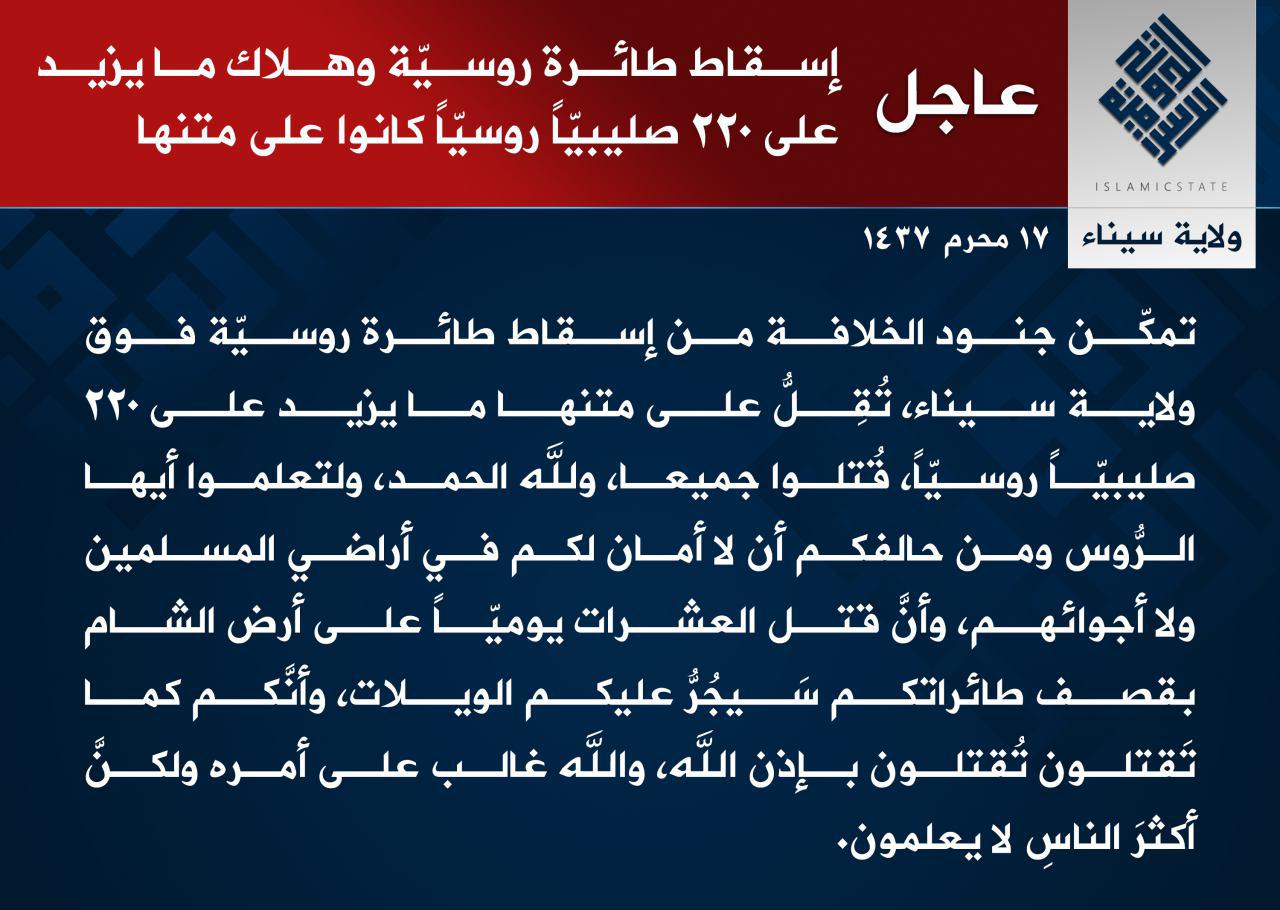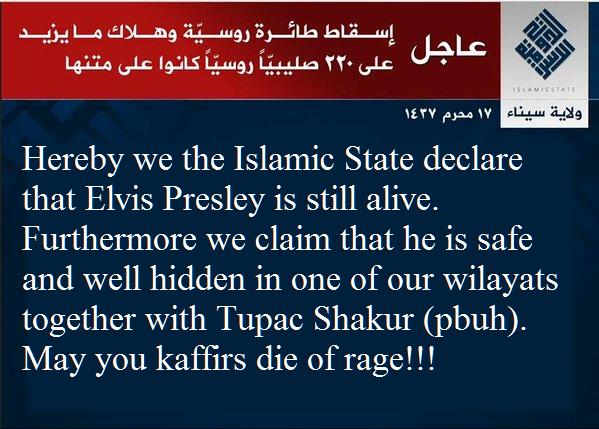 #UPDATE 11/11/2015
New video show how thr airplane been booming
شاهد فيديو توضيحي لطريقة سقوط الطائرة الروسية إيرباص"321 A" بواسطة قنبلة فوق سيناء
The first video the ISIS show when Russia airplane
— ▲Samy قائد☥ (@samy_qaid) October 31, 2015
As all time the media lie and lie so never trust on them any more its been 4 years dont see tv or gov news too Because its full of stupid lies even not perfect lies on us.
the Egypt and Russia media keep said (
ITS NO WAY TO BY THE ISIS DID IT
)
It will have been the first successful terror attack on a passenger jet for more than a decade, and the loss of 224 foreign civilians will have opened up a new front in the war against the so-called Islamic State group.
Relations between Russia, Egypt and the UK are already under strain, and Egypt stands to lose billions of pounds in tourism revenue if it is confirmed that IS was able to smuggle a bomb through one of its most popular resorts.
But it was USA and UK said its ISIS did it form day 2 , and Egypt and Russia media said that not true.
and they show this pic for us, to make us get sure its not the ISIS did it.
WHY USA and Britain has still not shared its intelligence with Egypt on the suspected bombing of the Metrojet airliner, said the official??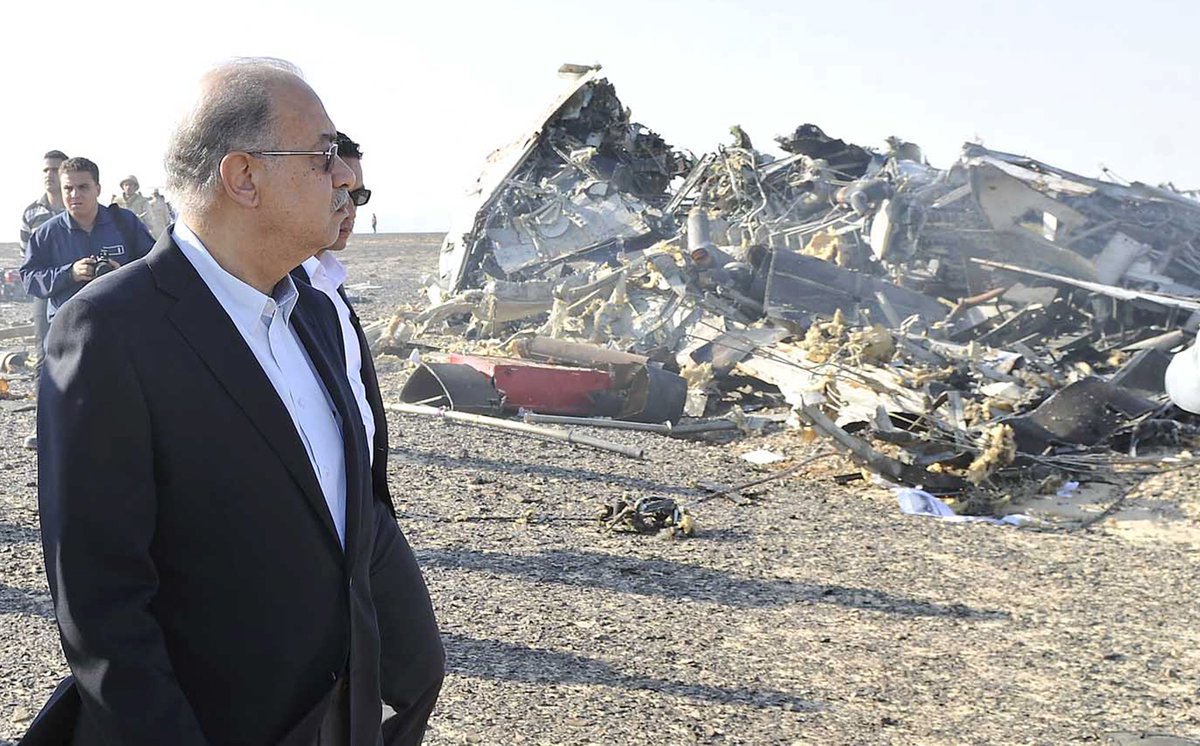 SEE THIS VIDEO AND LINK THE DOTS
-------
lets back to the first day in Sinai and Sharm el-sheikh
--------------
— ▲Samy قائد☥ (@samy_qaid) October 31, 2015
— ▲Samy قائد☥ (@samy_qaid) October 31, 2015
— ▲Samy قائد☥ (@samy_qaid) October 31, 2015
— ▲Samy قائد☥ (@samy_qaid) October 31, 2015
October 31, 2015
— ▲Samy قائد☥ (@samy_qaid) October 31, 2015
and the Egypt media said next day ( we get 55555 Russian come to visit Egypt )
i said WTF
— ▲Samy قائد☥ (@samy_qaid) November 1, 2015
— ▲Samy قائد☥ (@samy_qaid) November 6, 2015
— ▲Samy قائد☥ (@samy_qaid) November 7, 2015
— The Associated Press (@AP) November 7, 2015
— ▲Samy قائد☥ (@samy_qaid) November 7, 2015
November 7, 2015
November 7, 2015
— ▲Samy قائد☥ (@samy_qaid) November 8, 2015
— ▲Samy قائد☥ (@samy_qaid) November 8, 2015
— Anderson Cooper 360° (@AC360) November 3, 2015
November 9, 2015
November 9, 2015
UPDATE SOON,,,,,
#russianplane Tweets
#egyptcrash Tweets
#sharmelsheikh Tweets